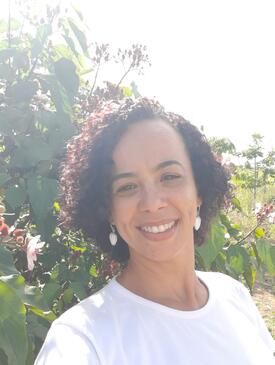 Erica Munaro
Brazil Program Assistant, Neotropics Program
Based at the Instituto de Pesquisas Ecológicas - IPÊ, Erica has been with ELTI since September 2022.
Erica has been working for over 17 years with rural communities in the central corridor of the Atlantic Forest, in projects that encourage the expansion of forest cover associated with sustainable agricultural production. She is an expert in environmental adequacy of rural properties, planning of agroforestry systems, conduction of participatory methodologies, and agroecological practices.
Erica is a forestry engineer with a master's degree in environmental and forestry sciences from the Federal Rural University of Rio de Janeiro. She worked in the public sector in environmental management and rural extension institutions for 12 years, where she stewarded numerous projects related to the conservation of the Atlantic Forest.
In 2014 and 2022, Erica took ELTI's courses "Introduction to ecology and strategies for the restoration of tropical forests in anthropic landscapes" and "Environmental and Productive Adequacy of Rural Properties," which she can confidently confirm that they contributed significantly to her professional performance.
"Demonstrating that it is possible to run efficient farms while restoring our landscapes and conserving our natural and cultural riches is a challenge that motivates me daily."

Erica Munaro