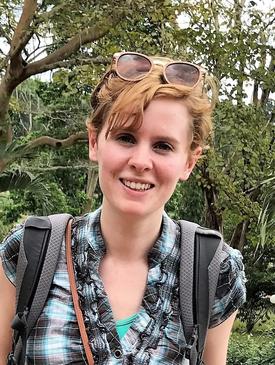 Karin Bucht
Coordinator, Africa and Blended Training Programs
Based at Yale University, Karin brings her interdisciplinary background and love of teaching to ELTI where she develops and facilitates training courses for people around the world.
Karin Bucht has been with ELTI since 2015, where she plans, develops and delivers online training courses on managing tropical forest landscapes for a global audience. She is especially interested in connecting social considerations to practical and technical aspects of natural resource management. Karin has led ELTI's training activities in Africa to date, through online and blended training courses on forest landscape restoration.
Karin holds a Master of Forestry from the Yale School of the Environment and a Bachelor of Science in Environmental Science and a Bachelor of Arts in International Studies from Oregon State University. Karin has conducted research and worked on a variety of projects in Madagascar, most recently investigating species and site selection in plantation projects for local fuelwood production and reforestation. She has also worked on the Global Institute for Sustainable Forestry's "Global Forest Atlas" project and with Yale School Forests as an Apprentice Forester.
"I've long been interested in the intersections between human livelihoods and the environment, especially in relation to tropical forests. I am excited to work with people making these connections and implementing change in landscapes around the world."

Karin Bucht