Details
Alumni-requested event
Eveneth Manato
Philippines
September 26, 2018

to

January 20, 2019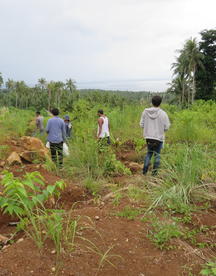 Note: Yale School of the Environment (YSE) was formerly known as the Yale School of Forestry & Environmental Studies (F&ES). News articles and events posted prior to July 1, 2020, refer to the School's name at that time.
Summary
In 2017, a typhoon caused severe landslides in Cabucgayan that brought a lot of damages to farms and people's lives. The Department of Social Welfare and Development (DSWD) is a government agency that collaborates with local communities to develop projects that improve the well-being of people. After the typhoon, DSWD received many requests from communities for projects that would rehabilitate the areas affected by landslides to protect them from potential future disasters.
ELTI alumni from DSWD and local communities received technical assistance from ELTI and partner institution Visayas State University (VSU) to restore areas affected by the landslides in Cabucgayan. This project aimed to generate income and lessen the damages of natural calamities for the local communities by establishing 52 hectares of Rainforestation sites throughout Cabucgayan. Rainforestation is a restoration practice that uses native species from the Philippines. ELTI mentored alumni from the DSWD and local communities so they could implement the following activities:
Site preparation: conduct a site assessment, map site and collect of soil samples for analysis
Site development: design the Rainforestation sites and organize community field training to establish and monitor sites.