Details
Alumni-requested event
Eduardo Zambrano
Los Santos Province, Panama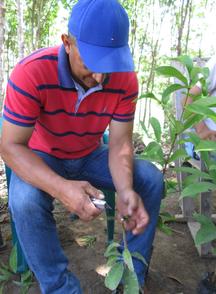 Jacob Slusser
Note: Yale School of the Environment (YSE) was formerly known as the Yale School of Forestry & Environmental Studies (F&ES). News articles and events posted prior to July 1, 2020, refer to the School's name at that time.
Summary
Eduardo Zambrano is a small-scale farmer in the highlands of the Azuero Peninsula in the town of Bayano, Los Santos Province, Panama. He aspires to convert his conventional farm into a more sustainable farm using sustainable practices, such as agroforestry and silvopastoral systems, to increase production while conserving and restoring the local ecosystems. He also hopes that his farm can serve as an example to other farmers.
Eduardo heard about the fruit tree grafting workshops facilitated by ELTI in other communities and wanted to learn this skill to improve his farm, so he requested a similar training.
In this alumni event, ELTI provided technical training to Eduardo and other local farmers on how to use fruit tree grafting techniques to increase the quality and quantity of citrus and avocado trees in their agroforestry systems. Eduardo plans to start applying grafting to produce 50 trees to enrich his agroforestry system.