Details
Alumni-led project
Edwin Masbang
Philippines
October 1, 2017

to

September 23, 2018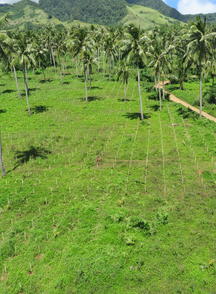 Note: Yale School of the Environment (YSE) was formerly known as the Yale School of Forestry & Environmental Studies (F&ES). News articles and events posted prior to July 1, 2020, refer to the School's name at that time.
Summary
Natural calamities like typhoons and landslide affects the municipality of Cabucgayan every year. In 2017, many rice fields, coconut farms and livelihood of local farmers were affected by landslides caused by typhoon Urduja. Edwin Masbang, ELTI alumnus and Cabucgayan mayor, received support to take a leadership role in demonstrating that restoration of landscapes with native tree species can help. This practice is known in the Philippines as Rainforestation. 
Edwin requested assistance from ELTI to run a series of field workshops to train key stakeholders and develop a 5-hectare site to demonstrate Rainforestation practices in Cabucgayan. Edwin and ELTI trained local government officials, farmers and land owners as they prepared, established and monitored the site. Activities included:
Site preparation: initial site survey, mapping and collection of soil samples for analysis
Site establishment: design layout of the demonstration site and plant native tree species with members of the community using seedlings provided by ELTI and in-country partner institution Visayas State University
Site monitoring, maintenance and protection: collect initial data on the growth performance of the seedlings planted, build a fence around the demonstration site to protect the area from stray animals, organic fertilization, weeding and replacement of seedlings.
Edwin hopes that the field training and the demonstration site will spur local initiatives on forest restoration in the area and help increase the supply of water in Cabucgayan especially during dry seasons.