Details
Alumni-led project
Irene Romagos
Philippines
November 29, 2017

to

March 1, 2018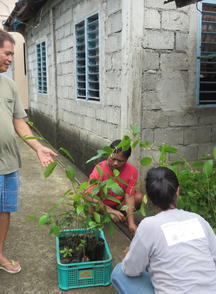 Note: Yale School of the Environment (YSE) was formerly known as the Yale School of Forestry & Environmental Studies (F&ES). News articles and events posted prior to July 1, 2020, refer to the School's name at that time.
Summary
This project has the hands of many. A group of 21 ELTI alumni received technical support to implement the farm management plans they developed during an ELTI course on climate-resilient recovery. Their plans involved restoring landscapes using native tree species, a practice known in the Philippines as Rainforestation. ELTI provided seedlings of native tree species and technical assistance to all 21 alumni.
The alumni hope to achieve many important results for forest landscapes, biodiversity and livelihoods. Their goals include rehabilitating degraded lands, contributing to increase water supply, reducing soil erosion, increasing their income from forest products, protecting wildlife and helping mitigate climate change. ELTI continues to support this project by helping the alumni monitor their Rainforestation sites, geotagging seedlings and visiting their farms to provide tailored technical assistance.
The alumni involved in this project are Irene Romagos, Ritchie Romagos, Clara Lipaopao, Archie Mendoza, Zosimo Corpin, Jessie Lamoste, Ricardo Cabulang, Roswel Quiñones, Jose Casipit, Edita Agang, Delia Ilagan, Iniego Masbang, Narcisa Cabatingan, Wilma Cabillan, Edwin Merelos, Paulito Palacio, Fe Elorde,Joselyn Rosales, Carlos Ochea, Ma. Lisa Sta. Agata and Jose Ochea.