Details
Alumni-led project
Ester Batangan
Philippines
January 9, 2019

to

January 13, 2019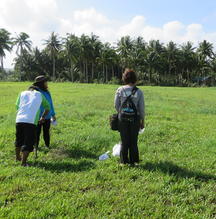 Note: Yale School of the Environment (YSE) was formerly known as the Yale School of Forestry & Environmental Studies (F&ES). News articles and events posted prior to July 1, 2020, refer to the School's name at that time.
Summary
ELTI alumna Ester Batangan has been an active member of the Rain Forest Restoration Initiative network and has supported, attended, and helped facilitate ELTI events in the Philippines especially at the national level. She has been developing a book with Dr. Paciencia Milan on the milestones of Rainforestation, a restoration practice that uses native species. Ester wants to establish a Rainforestation site to serve as a learning site for farmers and others from Northern Samar who are interested in supporting Rainforestation or starting their own sites.
Ester's goal is to convert an unproductive rice field into an agroforestry site that features native fruit and timber trees. The area is just less than one-hectare and will be managed by a caretaker that lives beside the site for easier management and monitoring. ELTI and partner institution Visayas State University provided technical assistance in the first stage of the site development, which included site assessment and biophysical profiling, site mapping and soil sample collection and analysis. The plan is to use this area to teach others about Rainforestation during the community-based courses in Palapag to demonstrate how to transform underutilized private lands into Rainforestation sites.