Details
Alumni-requested event
Daisy Capon
Philippines
December 14, 2018

to

December 15, 2018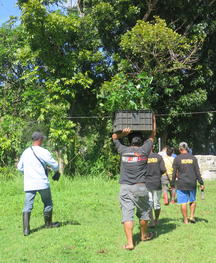 Note: Yale School of the Environment (YSE) was formerly known as the Yale School of Forestry & Environmental Studies (F&ES). News articles and events posted prior to July 1, 2020, refer to the School's name at that time.
Summary
Villaba is a municipality in Leyte that was affected by Super Typhoon Haiyan. Many rice fields, coconut farms, and watersheds were damaged during the typhoon. ELTI alumna Daisy Capon is involved with the rehabilitation of watersheds using Rainforestation for climate-resilient recovery. Rainforestation uses species native to the Philippines to restore forest landscapes.
Daisy is a faculty member at the satellite campus of Visayas State University in Villaba (VSU-Villaba). Through his work as a teacher and research, she supports an initiative of VSU-Villaba that highlights the importance of forest restoration and the use of native species by rehabilitating at least one hectare of the campus' watershed.
With the support from ELTI, Daisy and VSU team members organized a field course to train participants in the theory and practice of Rainforestation. Hands-on activities during the field course involved planting 2,000 seedlings of 16 native species within the VSU-Villaba's rehabilitation site. The planted area will serve as a demonstration site for local government officials and community members who want to rehabilitate watersheds in their respective areas. Students of the VSU-Villaba campus taking ecology courses will also have the opportunity to learn first-hand with this pioneer initiative.