Azuero Peninsula, Panama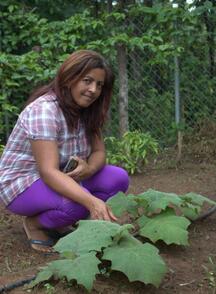 Note: Yale School of the Environment (YSE) was formerly known as the Yale School of Forestry & Environmental Studies (F&ES). News articles and events posted prior to July 1, 2020, refer to the School's name at that time.
Summary
ELTI alumni who are members of the Save a Tree Live Better Ecological Producer's Association (SAVIM), located in the Macaracas District of the Los Santos Province in Panama's Azuero Peninsula, are implementing a rainwater harvesting project to facilitate water conservation practices and sustainable water use.
Fifteen SAVIM members are participating in the project, which involves establishing: (1) an agroecological garden at the primary school, (2) a community-based tree nursery, and (3) a model silvopastoral system. All three activities will be supported by the rainwater harvesting system that project participants are also developing.
In recent decades, Panama's Azuero Peninsula has become increasingly vulnerable to extreme weather events and especially to droughts that occur during prolonged dry seasons. The region is heavily deforested due primarily to the establishment of conventional agricultural practices, which further exacerbates the adverse impacts of extreme weather patterns. The impacts of these trends on livestock and agricultural production are severe, which is generating increased food and income insecurity. Rainwater harvesting is a sustainable alternative that can help to store water during the rainy season that landholders can draw upon during critical drought periods to help maintain cattle and agricultural crops.
With support from ELTI, SAVIM members applied for a rainwater harvesting grant from the Global Environmental Facility's Small Grants Program, which they were awarded in 2020. Over the past year, the ELTI team has provided SAVIM members with training on how to design and implement the rainwater harvesting systems. The systems were a great success during the first dry season, and SAVIM members plan to establish even more of them. Additionally, other producers in the region are now interested in these systems, and SAVIM members plan to teach others about their experiences by drawing upon their systems for demonstration purposes.
The rainwater harvesting project helped us create a community association garden. Because of the irregular rainfall, this type of garden was impossible, because we never had enough water available. Now we have a variety of crops planted to feed our families and an example to teach the community how to harvest rainwater to grow food.

Edelmira "Diany" Navarro, President of SAVIM
We bring our children to the association's activities in the garden so that they learn how to plant tomatoes, cucumbers, peppers and other vegetables and how to harvest rainwater to grow them, especially during times of drought. Children need to learn these skills so they always know how to grow their own food, especially during times like the pandemic when buying food was very difficult.

Diosa Castro, Secretary of SAVIM