Details
Alumni-led project
Edelmira Navarro
Panama
July 1, 2017

to

September 30, 2017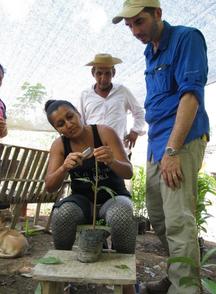 Note: Yale School of the Environment (YSE) was formerly known as the Yale School of Forestry & Environmental Studies (F&ES). News articles and events posted prior to July 1, 2020, refer to the School's name at that time.
Summary
ELTI alumna Edelmira Navarro is the President of the Save a Tree Live Better (SAVIM) Ecological Producer's Association, based in El Calabazo, Macaracas District in Panama.
With support from ELTI, SAVIM received funding from the Small Grants Programme and became the only association conducting forest restoration activities in the Macaracas region, one of the most degraded areas of Panama's Azuero Peninsula. SAVIM will implement three model silvopastoral farms and will share their experience and results with others. Their model farms will become farm schools, which they will use to demonstrate practices and teach other farmers about sustainable ranching and forest restoration. ELTI continues to support this project by providing mentorship, community-based technical assistance and customized training workshops.