Forest Restoration in the Cali River Watershed
Victor Galindo, a researcher at Colombia's Center for Research in Sustainable Agriculture Systems (CIPAV), has been a key player in facilitating a forest conservation and restoration program that incentivizes improved land-use planning and management in the Cali River Watershed.
The watershed covers approximately 12,000 hectares and provides 20% of the water consumed by the 2.3 million people living in the city of Cali, Colombia. The city's growing population has pushed the agricultural frontier up into the watershed's more marginal mountainous areas. Mature tropical forests have transitioned to a mosaic of uses, impacting the forest's ability to provide and regulate ecosystem services, especially the quality of water.
Alarmed by this threat to the city's future water supply, local environmental authorities, the private sector and other NGOs working in the watershed region implemented an economic incentive scheme to motivate landowners to make more sustainable land-use choices.
Victor coordinated the consolidation phase of the incentive scheme. His team prioritized farms in the watershed to develop interventions for maximum environmental impact. They would need to conduct farm analyses and develop participatory restoration plans—theory and skills Victor learned in ELTI's courses.
I was delighted with the enthusiasm, warmth and professionalism of the ELTI team and the usefulness of the various courses they lead. Learning from and building professional relationships with other restoration experts in Latin America has encouraged me to set my career goals higher and make a profound impact in landscape-­scale forest restoration.

Victor Galindo
Those farmers who rely on the land for subsistence were more reluctant because they would have to take land out of production while converting it to an unfamiliar, more sustainable system. To them, failure would mean food or income insecurity.
The scheme's success hinged on introducing reluctant farmers to neighbors who had already implemented some restoration work and begun to realize the benefits. That exchange built trust between participants, the scheme's manager and accompanying local organizations.
In total, 25 landowners participated to restore over 100 hectares in the Cali River Watershed. The scheme is still working with neighboring landholders to expand the conservation efforts.
Months later, Victor shared his experiences from this project as a facilitator of an ELTI course for other forest restoration practitioners in the region.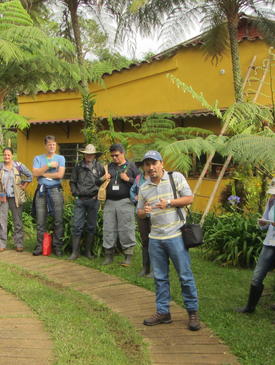 Acknowledgements
Thanks to the Center for Research in Sustainable Production Systems (CIPAV) for their ongoing support in identifying dynamic leaders and land­-use decision makers for ELTI training courses; the Netherlands Government; the Natural Patrimony Foundation of Colombia; and the Watershed Environmental Authority for funding the economic incentive scheme.
–Victor Galindo