Mobilizing the Grassroots for Forest Restoration
ELTI alumnus Eufracio Maratas, a young politician, has built his capacity for leadership, a local movement of constituents, and momentum for restoring the watershed of his hometown.
During the dry season, water is scarce in Pilar, a small town in the Cebu province of the Philippines. That's because less than 1% of the forest cover remains in the municipality's watershed. There is also very little biodiversity in the area.
Eufracio, a Councilor for the Municipality of Pilar, wanted to change that: "I am very much involved in policy-making, networking, community organizing, and implementing and managing projects for the conservation and protection of Pilar's natural environment. I want to raise a family and grow old in Pilar. It's very important for me that our island's environment and government is steered towards a path of sustainable development." Though he was determined to make a difference, he faced an uphill battle.
"First, I had very little knowledge and experience on forest restoration and management, so convincing the stakeholders was awkward. As a young politician, some people doubted my intentions. Second, I did not know the right people who could help put my ideas into action."
ELTI has contributed a lot to my growth as an environmental leader by providing me with opportunities to learn new skills and knowledge, to connect with my constituents, to implement high-impact projects, to travel in very interesting places, and to meet people who share my passion for forest restoration.

Eufracio Maratas
Eufracio's efforts gained traction after he enrolled in ELTI's Leadership Program: "They opened my eyes to the variety of trainings that I could attend. After participating in many capacity building activities across Southeast Asia, I began to develop new policies relevant to the needs of my hometown, organize and conduct Rainforestation trainings, and draft project proposals for funding. ELTI's Leadership Program Coordinator helped me with all of this."
He is particularly proud of the more than 200 hectares (50%) of Pilar's local watershed now rehabilitated with native species seedlings: "It somehow sums up all the work that I have been doing. Some of these reforestation efforts are not direct results of my projects, but I would like to believe that the policies that I passed, the trainings that I conducted, the projects that I implemented, and advocacies that I pushed played a big role in this accomplishment."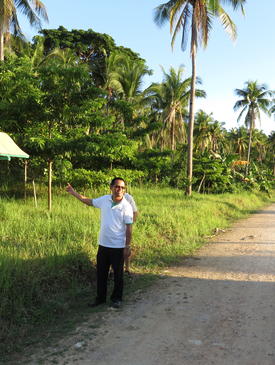 Acknowledgements
Thanks to Mr. Salazar for supporting me during the Rainforestation trainings and conduct of project activities; Dr. Marlito Bande and the staff of Visayas State University-Institute of Tropical Ecology & Environmental Management for introducing me to ELTI and for providing technical assistance; the members of Bandera Rainforestation Cooperators Organization (BaRCO) and Anahaw-Patag-Imelda Rainforestation Association (APIRA) for supporting the implementation of SWARM-­Rainfo Project; the existing community-based organizations like Can-ugkay Rainforestation Farmers Association (CaRFA) and Nagkahiusang Katawhan Sa Esperanza (NAKASE) for believing in my advice and for continuing to work for biodiversity conservation; the Local Government Unit of Pilar for providing financial assistance to the Strengthening Community-­Based Biodiversity Conservation Initiatives in Pilar, Cebu (SCOBCIP) Project; the NGOs and funding agencies like Plan International, Rufford Small Grants and the Global Environmental Facility and United Nations Development Program; and the national government through the Department of Environment & Natural Resources for providing financial support. And thanks to my wife and family members for providing inspiration and emotional, financial and material support.
–Eufracio Moratas