Forest Restoration in La Villa Watershed
Cattle ranchers learn how increasing forest cover on their land could improve on-farm production and nurture a watershed that provides potable water to over 150,000 people.
In June of 2014, the La Villa River, which drains approximately 1,284 square kilometers of Panama's Azuero Peninsula, and serves potable water for over 150,000 people, was contaminated with a toxic agriculture herbicide. The local government declared a state of emergency and spent US$2.5 million to supply residents with bottled water for two weeks.
In response, ELTI's work in the Rio La Villa Watershed offers field-based trainings to cattle ranchers and other community leaders to increase forest cover and sustainable ranching activities. These courses take place in one of ELTI's Panama focal training sites, which was designed to teach participants the theory and practice needed to develop restoration strategies that are appropriate for their local landscapes.
After the June 2014 contamination, two local farmers and community leaders from the upper region of the La Villa River Watershed­, José Olguin and Clímaco Marciaga, attended one of ELTI's field courses.
I was very concerned that my grandchildren would never see a forest in our region, and its rich flora and fauna. I wanted to conserve our land, but wasn't sure how. ELTI's training course and forest restoration demonstration sites inspired me to organize my neighbors to establish a forest reserve in our community. Our hope is that we will both restore forests and teach future generations about the importance of forest conservation for our livelihoods.

Jose Olguin
Following the training, José and Clímaco explored ways to conserve and restore forests with the support of neighbors, community officials and regional environmental authorities. They decided to focus on an abandoned, highly degraded mountainous area in the upper watershed.
With the support from ELTI, local farmers and the regional office of the National Environmental Authority (ANAM), José and Clímaco initiated the first steps to establishing the 400 ­hectare El Peñon Forest Reserve.
Currently, ELTI is assisting them to develop educational trails and forest restoration demonstration areas that illustrate the practices taught in the ELTI course. This area will demonstrate the importance of forests to farmers and offer hands-­on, transferable experience with restoration strategies.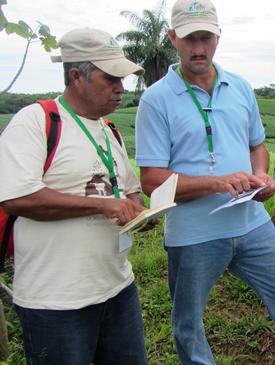 Acknowledgements
Thanks to the United States Peace Corps for their ongoing support of the environmental endeavors of ELTI alumni and for coordinating field logistics and the National Environment Authority of Panama (ANAM) for their ongoing support to help establish El Peñon Forest Reserve.