Restoring Damage from Coal Mining in East Kalimantan
Since partnering with BALITEK and ELTI in 2012, PT. Singlurus Pratama, a coal mining company in East Kalimantan, Indonesia, has taken positive steps to restore the sites where it operates.
Before the Research Institute of Natural Resources Conservation Technology (Balitek­-KSDA) and ELTI, the company's restoration efforts were limited to planting monocultures of fast-growing species, the common practice in the region. But monoculture plantations don't support the ecosystem's long­-term recovery.
Working in close cooperation with Dr. Ishak Yassir, a Senior Researcher and one of ELTI's training partners from Balitek­, company staff have planted native species that grow in harsh open conditions and attract wildlife.
The animals have started to return, bringing other tree species with them. Inspired by this early success, PT. Singlurus Pratama has applied this strategy to 83 hectares. The old mining site is returning to a more natural state.
People I know regularly ask me when the next ELTI event will be, and if they'll have a chance to be selected to participate. They know that the events always cover topics that match the needs and conditions on the ground.

Dr. Ishak Yassir
PT. Singlurus Pratama hasn't stopped there. They've also acted on Dr. Yassir's recommendations of a better social strategy. Instead of using its staff to do this work, the company has engaged two local groups to grow, transplant and maintain the replanted native seedlings—a boost for the local economy.
These efforts have caught the attention of Indonesia's natural resource ministries, local politicians and other coal mining companies.
PT. Singlurus Pratama is also working with ELTI, Balitek­-KSDA, Tropenbos International, and other partners to develop the nearby Bukit Bangkirai Eco-­Tourism Area as a permanent training site. The recovery areas will serve as demonstration and practice sites for other groups inspired to start similar projects.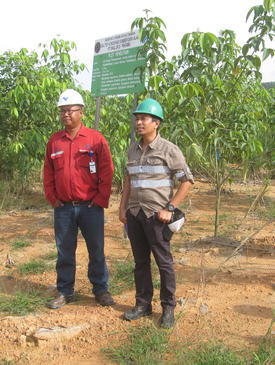 Acknowledgements
Thanks to Balitek-KSDA, Tropenbos International; PT Inhutani I; and PT. Singlurus Pratama for their ongoing support in developing the mine site rehabilitation training program.