Redirecting the Philippines' National Greening Program
ELTI and its partners guide the government's latest reforestation effort toward more sustainable success for forests and communities across the country.
In February of 2011, the president of the Philippines declared an ambitious goal: to plant 1.5 billion trees on 1.5 million hectares by 2016. Past large-scale government reforestation projects have stumbled from exotic monoculture plantings, young trees dying for lack of long-term maintenance, and employing local communities as labor rather than engaging them as collaborators.
With this latest effort, ELTI and members of the Rain Forest Restoration Initiative (RFRI) recognized an opportunity to implement a more effective approach.
After signing a partnership agreement with the Department of Environment and Natural Resources (DENR), RFRI members committed to mobilize their network of partner communities to supply native tree seedlings. Instead of hiring these local people as laborers, they were engaged throughout the whole process for a more adaptive management approach.
For its part, ELTI has been providing upland and mangrove restoration trainings that emphasize the importance of using a variety of native species suitable for the designated areas, and caring for the seedlings from the nursery all the way to maturity.
Since 2012, RFRI partners have produced more than 9 million native seedlings and planted over 12,000 hectares. Though various challenges have limited these early results, the partnership agreement represents a significant step towards localized, flexible native species reforestation in the Philippines.
Partner communities report a variety of initial benefits: funding has brought new construction, irrigation and transportation resources; seedling production has provided alternative livelihood and another reason to protect the remaining forests; and the program has fostered greater camaraderie and empowerment.
This is just the beginning of a long-term effort to steer the Philippines' reforestation programs to produce substantially better ecological and social outcomes.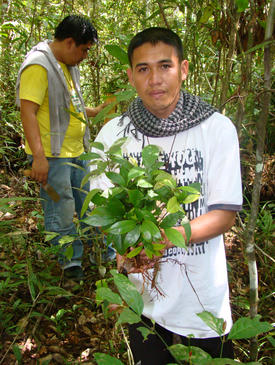 Acknowledgements
Thanks to the Philippine Tropical Forest Conservation Foundation and the Foundation for the Philippine Environment for taking the lead in negotiating and signing the Partnership Agreement with the DENR, and to the other members of RFRI for supporting the agreement and mobilizing the partners on the ground.