Using Eucalyptus as an Alternative Livelihood to Conserve Proboscis Monkey Habitat
The Black River area is a natural habitat of the proboscis monkey (Nasalis larvatus), an endangered primate species endemic to the island of Borneo that is known for its bulbous nose. The Black River is located outside of state-sponsored protected areas, and the surrounding forest is prone to degradation and conversion to residential, agricultural, and industrial land uses.
Aidil Amin (known as "Pak Andung") is an ELTI alumnus and head of the Conserve Sungai Hitam Tourism Awareness Group (POKDARWIS), a local community group focused on promoting ecotourism in the areas around the Black River of Samboja, East Kalimantan, Indonesia. To conserve the proboscis monkey and its habitat, Pak Andung and members of POKDARWIS have been working closely with Tropenbos-ELTI (ELTI's partner in Indonesia) to gain the support of the surrounding community.
In the forests surrounding the Black River, many eucalyptus trees grow naturally but nearby local communities do not utilize the trees for livelihood purposes. In collaboration with Tropenbos-ELTI, Balitek KSDA, SKK Migas, and Pertamina Hulu Mahakam, Pak Andung helped implement an online training event "Introducing Melaleuca Oil as a Non-Timber Forest Product." Members of POKDARWIS and the Kampung Lama community learned how to cultivate and maintain eucalyptus trees, and sustainably use the plant and increase its economic value by distilling its essential oil.
After attending this training event, Pak Andung and POKDARWIS began producing eucalyptus essential oil, which they now market to visitors coming to the Black River to see the proboscis monkeys. By buying this product, visitors contribute to the conservation of proboscis monkeys and their habitat, while supporting the livelihoods of the surrounding community.
For their success in managing the Black River area for proboscis monkeys and their habitat and inspiring the local community, Pak Andung has received various awards from the government, including a certificate of appreciation in the 2020 Kalpataru award program from the Indonesian Ministry of Environment and Forestry.
We are aware that we cannot work alone in managing the Black River Area. Thanks to the support of ELTI and other parties through their training and mentoring programs, the community has started to care about the environment. By protecting the area, we get many benefits. such as tourism and other alternative livelihoods such as eucalyptus oil refining.

Pak Andung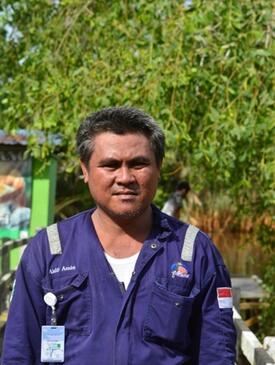 © Sulton Afifudin
Acknowledgements
Pak Andung would like to thank ELTI, Tropenbos Indonesia, Balitek KSDA Samboja, Blue Forests, Pertamina Hulu Mahakam (PHM), Pertamina Hulu Sanga-Sanga (PHSS) and Pertamina EP. Pak Andung expresses special gratitude to the experts who have contributed significantly to the management of the Black River area and community capacity building in Kampung Lama by providing very relevant and applicable mentoring and training.