Leading People with Disabilities in Rainforestation Initiatives
Empowering People with Disabilities to establish forest restoration projects for future generations in the Philippines
In the early 1900s, forest covered 70% of the Philippines. Today, just 24% of the country is forested, and only 3% of the primary forest remains. The decline in forest cover is associated with activities such as logging, agricultural expansion, and widespread firewood collection. Reforestation efforts are underway. One effective approach is rainforestation, an agroforestry-based approach that uses native species to restore degraded landscapes and ecosystems.
With a passion for facilitating change in the Philippines despite her own physical disability, ELTI alumna Marta Villafañe is an exceptionally inspiring advocate for rainforestation. Marta, who often uses a wheelchair, is forest program officer for the Life-Giving Forest (LGF), a German organization that is committed to working with marginalized groups to help them get involved in environment issues, and the Foundation for These-Abled Inc (FTI), a Philippine nonprofit organization that coordinates cooperative groups of people with disabilities (PWDs) to promote employment and empowerment. Marta's goal is to spread the word that PWDs' can implement rainforestion to restore forests for future generations.
After Typhoon Haiyan—known locally as Super Typhoon Yolanda—hit Leyte province on November 8, 2013, Marta helped provide emergency response and humanitarian assistance to victims of the calamity. While addressing their immediate needs, she also spoke with people about the importance of forests and the threats posed by climate change. Moved by stories she heard, she organized a series of training events in various municipalities in the region to encourage environmental awareness and highlight livelihood programs, especially for PWDs and other marginalized people.
In November 2015, Marta attended an LGF-sponsored training event on rainforestation in Cateel, Davao. Staff members from the Visayas State University Institute of Tropical Ecology and Environmental Management (VSU-ITEEM) gave presentations on rainforestation that addressed biodiversity in the Philippines, seedling propagation techniques, low-cost nursery establishment, and site assessment for nursery establishment. Participants included members of the Cateel TheseAbled Persons Producers Coop (CTPPC) and the San Francisco Association of Differently Abled Persons Cooperation (SAFRA-ADAP), who immediately applied what they learned to a 10-hectare area land that had been provided to them by the Philippines Department of Environment and Natural Resources (DENR).
In March 2018, Marta worked with VSU-ITEEM and VSU-Environmental Leadership and Training Initiative (ELTI) to organize a course on rainforestation for members of the Hindang Persons with Disability Agriculture Cooperative (HIPEDAC), a group that Marta helped organize in Hindang, Leyte. The group, together with VSU-ELTI, made a site development plan and started rainforestation on a three-hectare site purchased by LGF using trees provided by VSU-ITEEM and VSU-ELTI. Others from VSU, including former VSU President Dr. Joseph Bacusmo and director of the National Coconut Research Center Dr. Juliet Ceniza also contributed fruit trees for the site.
To publicize the rainforestation efforts of PWDs, Marta, supported by a grant from ELTI's Leadership Program, delivered a presentation titled "Rainforestation with Persons with Disabilities in the Philippines" at the 2019 International Society of Tropical Foresters (ISTF) Conference, held at the Yale School of the Environment in New Haven, Connecticut, USA. She received the ISTF Leadership Award in recognition of her achievements.
Marta continues to work with VSU and VSU-ELTI to develop courses and establish sites with groups of PWDs. Her current work, part of LGF's efforts to continue supporting people affected by Super Typhoon Yolanda, is focused in Sogod, Southern Leyte. Among other activities there, LGF is introducing a fruit eating and seed planting activity that highlights the importance of germinating seeds from native fruits commonly eaten by local villagers and growing the trees to enhance local livelihoods.
We are looking forward to additional partnerships to do something for Mother Nature. In spite of our physical disabilities, we can do something for the next generations to come.

Marta Villafañe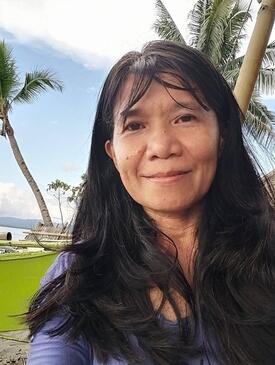 Marta Villafañe