Replacing Exotic Monocultures with Native Tree Species
Greater variety of native trees provides the foundation for the return of biodiversity, thanks to forester and ELTI alumnus Vincent B. Concio.
Between 1980 and 1998, secondary forest cover in the Caliraya-­Lumot Watershed Reservation (CLWR) dwindled from 69% to about 7% in favor of coconut plantations and other uses. Most of the watershed areas in the country have suffered a similar fate. These areas have been negatively impacted  through a mix of inappropriate land uses, including illegal titling and speculation, charcoal-making and timber poaching.
In the past, the official approach was to grow monocultures of fast­-growing non-­native species in all reforestation projects, even going so far as to clearing out successional stage native trees that had begun to regrow.
Frustrated by this replacement of native species with non­-native species, forester Vincent B. Concio, then a Senior Watershed Management Specialist of the National Power Corporation's CLWR Team, felt compelled to do something to conserve and restore the environment and natural ecosystem: "replanting with exotic species wastes funds and manpower resources while destroying the natural ecosystem that had begun to regenerate."
With the right knowledge and determination, I believe I can gain support and eventually influence the local stakeholders to restore the natural ecosystem of the watershed.

Vincent B. Concio
When the opportunity appeared, Vincent eagerly enrolled in ELTI's Field Training and Leadership Programs.
Empowered by his new knowledge and skills, Vincent organized trainings for local communities, leaders, and People's Organizations (PO) in the CLWR, as well as students and teachers of South Luzon Polytechnic University (SLPU). He covered the importance of native biodiversity, how to bring it back through the Rainforestation technique, and how to manage a native species nursery.
With assistance from the Haribon Foundation, local POs and leaders have applied Vincent's trainings in the CLWR. Several communities have replanted a total of 50 hectares with native species. SLPU adapted their plans to establish a model Rainforestation site in their compound and to construct a nursery for indigenous species.
In September 2014, Vincent was promoted to Section Chief in the Pantabangan-­Carranglan Watershed Forest Reserve (PCWFR). There, he plans to continue the work he started in CLWR by providing technical assistance and guidance to local POs and partner companies, including orientations, guidance on outplanting activities, monitoring and evaluation of the tree nurturing sites.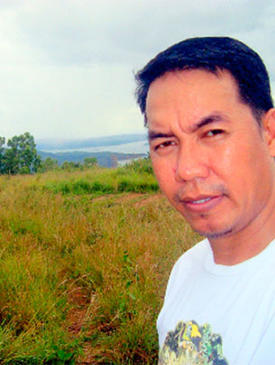 Acknowledgements
Thanks to the POs in CLWR (Mahipon­-Lumot Farmers Multi­Purpose Cooperative, Caliraya Ecosave, Muling Pagsibol ng mga Punla para sa Kinabukasan) for opening their minds to Rainforestation technology and for the trust to organize them; the University of the Philippines-­Los Banos for trusting the competency of the resource person in the training-seminar; the Southern Luzon Polytechnic University for their open­-mindedness, hospitality and trust during the training-­seminar; and the Haribon Foundation for their continued support and trust to organized POs in CLWR.
–Vincent B. Concio