Adopting Silvopastoral Practices to Create Resilient Livestock Systems in Panama's Azuero Peninsula
Panama's Azuero Peninsula is one of the country's driest and most degraded regions where variations in rainfall patterns, brought about in part by a changing climate, are adversely impacting traditional livelihood practices. Local farmers must navigate increasing water shortages during the dry season, and the region's most important source of water, the La Villa River Watershed (LVRW), is heavily deforested and, therefore, unable to filter agrochemicals and siltation.
ELTI alumna and rancher Cecibeth Peralta has been transforming her cattle farm located within the LVRW from one comprised of extensive pastures devoid of tree cover to one that includes small rotational pastures with living fences and dispersed shade trees. According to Cecibeth, "we need to make changes on our farms, so people downriver do not suffer from our actions."
As part of the project entitled, "Empowering farmers to support livelihoods by restoring ecosystem services in Panama's La Villa River Watershed," funded by the Conservation, Food and Health Foundation (CFH), Cecibeth attended a five-day ecological restoration course taught by the ELTI team in 2019. She learned about the importance of ecological restoration and visited model farms with silvopastoral system established by members of the Association of Livestock and Agrosilvopastoral Producers of Pedasi (APASPE). These field visits provide Cecibeth with the opportunity to discuss the importance of trees for livestock production directly with APAPSE members.
After developing a farm management plan as the final project of the course, Cecibeth returned to her farm to implement her plan. With support from ELTI's Leadership Program, Cecibeth receives monthly technical assistance from ELTI team members who are helping her to prioritize areas where she can create smaller rotational pastures, establish living fences, plant pasture shade trees, and amplify forest cover in riparian areas.
In just over a year, Cecibeth has already noted improvements with the production of her livestock. As she transforms her farm, she has also become an advocate in her community for the adoption of more ecological approaches to ranching, which benefit landowners and thousands of downstream users of the La Villa River Watershed.
Regarding the project, I am very satisfied, it has allowed me to learn more about agroecology and it has gotten my son interested in our farm and the project. It has also generated interest of other farmers in the community who have been motivated to reforest and adopt sustainable livestock practices.

Cecibeth Peralta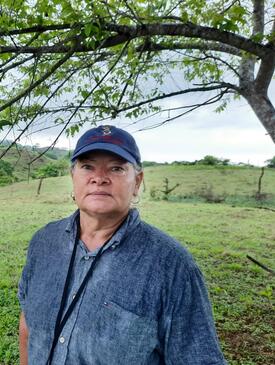 Jorge Gutierrez
Acknowledgements
Cecibeth Peralta would like to thank Conservation, Food and Health Foundation (CFH) for their generous support to fund this project.