Burundi Builds Coordination Between Organizations Implementing FLR
"Drive through Burundi and you will see isolated community restoration initiatives supported by a number of organizations," says Elie Hakizumwami, IUCN's Forest Landscape Restoration Policy Specialist for central and west Africa. "Greater coordination between the implementing organizations would multiply their impact."
Elie had been promoting FLR and ROAM already through policy and advocacy at national and regional events in western and central Africa, but he wanted to enhance his capacity to implement ROAM. So, he took the ELTI-IUCN course Forest Landscape Restoration in the Tropics.
In addition to increasing his ability to conduct ROAM assessments, Elie credits the course with expanding his ability to engage a wider diversity of stakeholders: "In the past, we would identify FLR options as a part of preparing workshops. Now, I better understand that involving underrepresented groups, namely women and indigenous groups, and discussing their experiences and working areas yields a broader, deeper variety of options. I found this very, very important."
The course significantly improved my capacity to apply and coordinate the ROAM process at different levels. For instance, seven months after completing the course, I am now leading sub-national ROAM assessments in six provinces in eastern and northwestern Burundi.

Elie Hakizumwani
Elie has applied his expanded perspective to his work with larger organizations, too. For example, when he first began working with the government of Burundi, he focused on the Ministry of Water, Environment, Land Management and Urban Planning. After the course, he realized that the success of ROAM and FLR required the effective involvement of a broader array of institutions, ranging from more government ministries to organizations such as the World Bank.
"ROAM and FLR are inherently multi-sectorial and multi-disciplinary," says Elie. "This multi-stakeholder approach better ensures broader FLR buy-in, and a more productive relationship between actors."
Elie and his colleagues have supported the government of Burundi to establish a National FLR Taskforce and National FLR Program. This program will coordinate, monitor and report on FLR initiatives at national and international levels. Also, they're developing a consultation framework through which partner organizations can report their work implementing FLR in Burundi, a step toward greater coordination.
"We expect this framework will help ensure that FLR investments continuously improve soil erosion control, soil productivity, food security, economic opportunity, and increase carbon sequestration capacity in support of climate change mitigation," he says.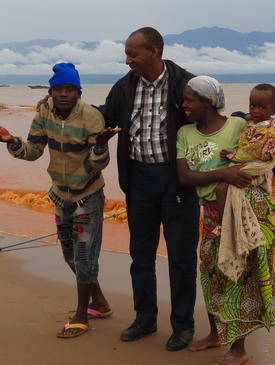 Elie Hakizumwami
Acknowledgements
Elie would like to thank the Ministry of Water, Environment, Land Management and Urban Planning (MEEATU), the Ministry of Agriculture and Livestock (MINAGRIE), the World Bank, the Burundi Agricultural Research Institute (ISABU), the Burundi Geographic Institute (IGEBU), the Food and Agriculture Organization (FAO), the International Fund for Agricultural Development (IFAD), World Vision, and the German Society for International Cooperation (GIZ).