Utilizing silvopastoral and agroforestry systems to create a climate-smart farm in Panama's La Villa River Watershed
The Azuero Peninsula is one of the most degraded regions in Panama. Once a region covered with dry tropical forests, it is now a landscape comprised with monocultures of agricultural crops and expansive tree-less livestock pastures. Such unsustainable systems are increasingly vulnerable to climate change. The region's most important source of water, the La Villa River Watershed (LVRW), is no exception, plagued with high deforestation rates, erosion, and water shortages during the prolonged dry season. Consequently, farmers are struggling to continue their traditional livelihood practices.
ELTI alumnus and farmer José Samaniego has been transforming his farm located within the LVRW. Once consisting of extensive degraded pastures and sugarcane fields, his farm now includes small rotational pastures with living fences and fruit tree-based agroforestry systems with honeybees.
Thanks to the project, "Empowering farmers to support livelihoods by restoring ecosystem services in Panama's La Villa River Watershed," funded by the Conservation, Food and Health Foundation (CFH), José attended a five-day ecological restoration course taught by the ELTI team in 2019. He learned about the importance of restoration and visited model farms with silvopastoral and agroforestry systems established by members of the Association of Livestock and Agrosilvopastoral Producers of Pedasi (APASPE). These field visits showed José that alternatives were possible—especially on how to integrate trees into his farm to increase production and conserve the ecosystem.
As part of his final project for the course, José developed a farm management plan to integrate this new knowledge into his farm. With support from ELTI's leadership program, José receives monthly technical assistance from ELTI team members who help him prioritize areas where traditional systems can be enhanced. For example, José has integrated rows of fruit trees within his sugarcane fields to diversify production and increase biodiversity. As a result, he has seen improved soil quality and fewer pests.
In addition, José created smaller rotational pastures and established living fences, which help block the dry season winds and create forage and shade for cattle—these interventions improve the microclimate of the farm and welfare of his cattle. To diversify production, José also incorporated beehives that produce honey and provide pollination services to the diverse crops in his farm. Most importantly, José envisions his farm as a place where others can learn how to improve their farms, which will help to restore the LVRW, a vital resource upon which so many depend.
Before, coming to the farm was always stressful. The pasture and the sugarcane were not producing like they used to, and I always had to spend money buying products to solve different problems. Then I started planting trees everywhere, making smaller pastures and mixing crops together—which is when things started to change. Now, I love coming to my farm, it fills me with joy, and I forget my problems! It is like an oasis in a desert, especially in the dry season. But it is also a farm school, where my neighbors can learn from my experiences and I'm happy to show them how working with nature bears fruit.

José Samaniego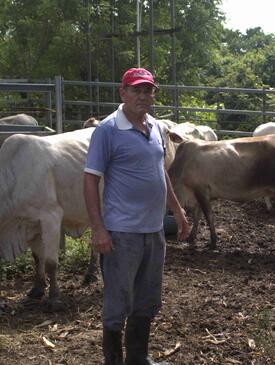 Jorge Gutierrez
Acknowledgements
José Samaniego would like to thank Conservation, Food and Health Foundation (CFH) for their generous support to fund this project.