Supporting Local Communities in Panama's Dry Forest
Reversing damage caused over generations restores hopes for the future.
Decades of deforestation and conventional cattle ranching have exhausted Panama's Azuero Peninsula. The people in this area, one of the country's primary agricultural regions that still contains remnants of tropical dry forest rich in biodiversity, have begun to suffer from dwindling farming productivity and ecosystem services.
The decrease in soil fertility has cascaded into many consequences for the farmers' cattle: less edible forage, less shade and more heatstroke, less milk and meat production, and fewer healthy calf births.
In 2008, ELTI began providing training courses to local farmers to help them increase production while reversing the environmental impacts of conventional agricultural practices. The farmers rapidly absorbed the more sustainable forms of cattle ranching (silvopastoral systems), agriculture (agroforestry systems) and protection of watersheds (reforesting riparian zones).
ELTI's support has been instrumental in helping us develop into community leaders and promoters of sustainable ranching practices.

Manuel Cedeño
Eager to expand on their learning, several of the farmers leveraged support from ELTI's Leadership Program to create the region's first legally recognized agroforestry and silvopastoral association, known by the Spanish acronym APASPE.
Armed with this legal entity, APASPE has the opportunity to receive direct ministry support and donor funding to implement projects. They also receive financial discounts on agricultural inputs.
Before we planted silvopastoral systems, our milking rates were cut in half during the long dry season. Many times, cattle would die of starvation. Now there is enough forage for them to eat all dry season and to sustain our milking rates.

Alcibiades "Chivi" Vergara
With ELTI's continued support, APASPE was awarded a grant from the Small Grants Programme (SGP) of the Global Environment Facility (GEF) to establish on-farm demonstration sites for intensive silvopastoral systems and to reforest riparian areas with native species. They have since facilitated field visits to their projects for more than 700 farmers, practitioners and students interested in learning about alternative farming practices.
APASPE's membership has doubled since it was first established. With additional assistance from ELTI's Leadership Program, APASPE developed a second and more ambitious project proposal for the GEF's SGP. In September 2013, APASPE was awarded funding. This second phase of funding will increase silvopastoral, agroforestry and riparian restoration systems over a two-year period.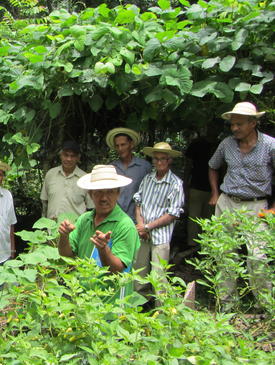 Acknowledgements
Thanks to the Small Grants Programme (SGP) of the Global Environmental Facility (GEF) for providing the funding for APASPE's sustainable ranching project; the United States Peace Corps for providing community-based technical assistance for the facilitation of APASPE's sustainable ranching project; and the Center for Research in Sustainable Agriculture Systems (CIPAV) for providing technical training and assistance during APASPE's project implementation.