Eastern and Southern African Countries Implement and Collaborate on FLR
Numerous countries in eastern and southern Africa have demonstrated interest in FLR, making commitments to international goals such as the Bonn Challenge and supporting regional initiatives including AFR100. To translate these pledges into action, participating institutions need appropriate technical support and improved communication.
Charles Karangwa, IUCN's Regional FLR Hub Coordinator for eastern and southern Africa, works with different countries to enable cross-institutional planning for the restoration of degraded landscapes.
In May of 2016, Charles enrolled in the online course Forest Landscape Restoration in the Tropics to improve his knowledge and technical skills in FLR, and expand his professional impact.
After the course, Charles felt more confident to "bring a cross-institutional approach to FLR in different countries. I believe we will be more successful when governments, supporting institutions and local stakeholders can come together to apply ROAM to identify our restoration opportunities and the interventions that are best suited to achieving their goals. It also makes a huge difference while developing a restoration implementation strategy."
Policy and decision makers need to consider the landscapes we all depend on. Forest landscape restoration is not only about forests but includes agricultural and pasture lands, catchments, water bodies, mangroves, and more.

Charles Karangwa
Charles has worked to raise awareness about ROAM in different forums at regional and national levels. This has yielded opportunities to support the initiation or continuation of ROAM across the region.
For example, after completing a national-level mapping of restoration opportunities, Madagascar now has plans to implement a ROAM assessment at regional and community levels. Rwanda is currently undergoing district-level assessments and has already started wide-scale restoration projects, with the aim to bring 18,000 hectares under restoration by 2018. Various government institutions, ministries, development partners, and private organizations have jointly formed a cross-sector task force to discuss forests, food, water and energy systems, helping to integrate FLR into various development strategies. In Uganda, Charles and his team at the FLR Hub are working with the Ministry of Water and Environment to restore the Aswa and Mount Elgon catchments.
"It's quite something to be proud of," Charles says. "The biggest change is the cross-institutional collaboration and coordination between different agencies, both public and private, to accelerate implementation of restoration activities and achieve national restoration targets."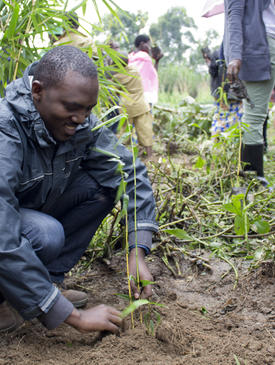 IUCN
Acknowledgements
Charles would like to thank the many authorities and ministries across Rwanda, Kenya, Uganda, Madagascar, Malawi, and Mozambique who have created a political environment that supports advocacy of FLR efforts. He also would like to thank IUCN, WRI, and FAO for providing technical support to these countries on the implementation of ROAM and integrating FLR into development agendas.