Burundi Steps Towards a More Holistic Approach on FLR Planning and Policy
More than 90% of Burundians rely on subsistence agriculture. As the population continues to grow, the same amount of land must feed more people, increasing pressures on land and other resources.
"The land has no time to rest," says Alphonse Polisi, the Director for Environment and Climate Change in Burundi's Office for Protection of the Environment (OBPE). "So we are working at the national level to raise awareness and restore landscapes that must continue to perform under growing pressure."
Alphonse believes the national government has a responsibility to promote more sustainable land-use decisions. He took the ELTI-IUCN online course Forest Landscape Restoration in the Tropics in October 2016 to expand his ability to guide and support the successful implementation of restoration opportunities.
The ELTI-IUCN course helped open Alphonse's eyes to the importance of holistically planning environmental management projects across institutions at the national level, and the identification and engagement of stakeholders throughout the process.
I was very much interested in the discussion of stakeholder identification; everyone has knowledge and value to add to opportunities on the ground. Stakeholders must take the lead at the landscape level. They're a prerequisite for the success of our restoration opportunities.

Alphonse Polisi
Along with improving stakeholder engagement, Alphonse has led an effort to gather and consolidate data from environmental management projects at the national level.
"We have involved 34 groups from different sectors, including ministries, NGOs, private organizations and associations: a task force for the national program of landscape restoration," he says. "Through this program, the department of environment and climate change will compile data, practices, and technical guidelines."
The database from this effort will support many objectives. It will allow the OBPE to monitor and coordinate landscape restoration at the national level. All restoration project and program planners will have access to the data, so they can learn from other partners' approaches. Finally, it will allow Burundi to report on commitments, such as the Bonn Challenge.
"We have received an enthusiastic response to our efforts to coordinate FLR and provide a channel for exchange on FLR at the national level," says Alphonse. "We are proud to position the OBPE as an institution to relay information on matters of environmental protection and, hopefully, help to restore the land's productivity."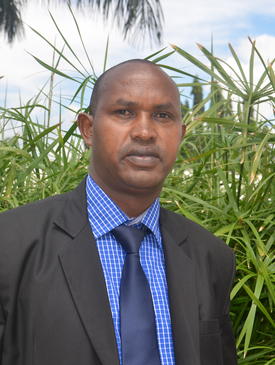 Alain
Acknowledgements
Alphonse would like to thank IUCN for the tools and documents they have produced, and the World Bank and IUCN who are working with the Government of Burundi on the current landscape restoration effort.