Utilizing Innovative Rainwater Harvesting Approaches to Improve Livestock Drinking Water Quality and Security
Longer droughts and unpredictable rainfall patterns are now a reality in the Azuero Peninsula, one of the most degraded regions of Panama. ELTI alumna and rancher Catelyn De León struggles with frequent water shortages that are negatively affecting her livestock. To address this issue, she recently installed a rainwater harvesting system on her farm that stores rainwater from the roof of her stable into a large plastic tank for livestock.
Catelyn learned about this approach while participating in the project entitled, "Rainwater Harvesting for Sustainable Water Use," funded by the Global Environmental Facility's Small Grants Programme. ELTI alumni such as Catelyn, who are members of the Save a Tree Live Better Ecological Producer's Association (SAVIM) in the Macaracas District of Panama's Los Santos Province, are adapting to climate change challenges by implementing silvopastoral systems supported by the rainwater they are harvesting. The rainwater harvesting systems also provide water for a community tree nursery and an agroecological garden at the local primary school.
During the project, Catelyn also learned how to design and install a rainwater harvesting system that provides water directly to her cattle, which means that her livestock no longer contaminate local streams. With support from ELTI's Leadership Program, Catelyn receives bi-weekly technical assistance from ELTI team members who are helping her to monitor and manage the new system. She is impressed with how such a simple system can so effectively improve on-farm production and conserve local water sources and is inspired to share her experiences with others.
We greatly improved my farm because it was very degraded and often did not have water. We have installed the water tanks to collect rainwater from the stable roof, we created the cattle aqueduct system that uses a local spring, and we have divided the pasture into several smaller paddocks to rotate the cattle and conserve the farm's soils. The farm has really come a long way, thanks to the support of ELTI.

Catelyn De León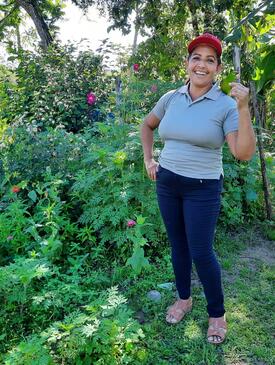 Jorge Gutierrez
Acknowledgements
Catelyn de León would like to thank Global Environmental Facility's Small Grants Programme for their generous support to fund this project.