Environmental Education through Rainforestation
Dr. Guiraldo "Jun" Fernandez, Jr., ELTI alumnus and faculty member of Visayas State University (VSU) in the Philippines, is a devoted advocate of Rainforestation—a forest restoration approach that promotes the use of native tree species in rehabilitating denuded lands.
Inspired by a week-long VSU-ELTI Rainforestation field course in August 2017, he immediately applied what he learned by integrating environmental conservation into his social science classes. Jun is committed to having all his students at VSU visit at least one Rainforestation site to learn about the significance of biodiversity conservation, especially through Rainforestation. To disseminate his lessons more widely to college students in the Philippines, Jun authored a section on Rainforestation in a nationally circulated textbook titled, The Contemporary World (Mutya Publishing House, Inc., 2018).
Jun was also inspired by ELTI alumnus Rene Vendiola's restoration efforts in Liptong Woodland in Negros. Jun applied to ELTI's Leadership Program to establish a two-hectare Rainforestation demonstration site on his own land for others to learn about the country's native endangered tree species. In September 2018, Jun organized a field course "Rainforestation Training for Developing a Learning Site for Community Based Forest Restoration and Conservation Agriculture" through ELTI's Leadership Program. Officials from the Philippines Department of Education and the local government youth group, Sanguniang Kabataan, participated in the event.
Now Jun's demonstration site is part of VSU-ELTI's training program to demonstrate what a new Rainforestation site is like in comparison to other well-established Rainforestation sites in the area. For example, VSU-ELTI implemented a field course with a group of ELTI's online course participants in Jun's Rainforestation site in July 2021.
Jun is passionate about continuing to deepen his knowledge about environmental conservation and restoration despite having already completed a doctorate in Peace Studies. He successfully completed ELTI's yearlong certificate program in May 2021, having written up a management plan for his Rainforestation site as his final project, and will also graduate with a master's degree in environmental management from VSU in December 2021.
Rainforestation sites give people opportune spaces to learn about the significance of biodiversity conservation.

Dr. Guiraldo "Jun" Fernandez, Jr.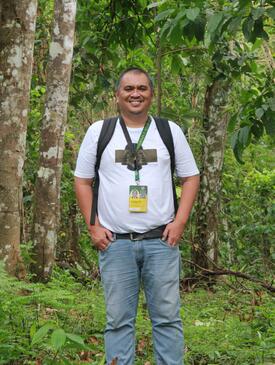 Acknowledgements
Special thanks to Visayas State University.