Exploring Forest Landscape Restoration by Birds
Biologists assess ecological and economic benefits of alternative reforestation approaches in Panama
The biodiversity of Panama's tropical forest is strongly influenced by fruit-eating animals (frugivores), like birds, that consume and disperse seeds throughout the landscape and far from seed trees. Managed reforestation of degraded areas requires extensive planning, maintenance, monitoring, and high-cost materials and labor, but birds facilitate natural regeneration effectively, and essentially for free!
ELTI alum Carol Gantes, an independent biologist and ornithologist, understands the key role of birds in forest landscapes and takes a holistic approach to restoration. Instead of tree planting, she considers a range of strategies, starting with a nature-based approach — natural regeneration.
Carol participated in an ELTI online short course in 2020 titled "Tropical Forest Restoration in Agricultural Landscapes." As part of her final project for the course, to better understand how birds facilitate natural forest regeneration in degraded landscapes, she spearheaded the El Naranjo Ecological Restoration Project (Proyecto de Restauración Ecológica El Naranjo [PREN]) in Panama's Azuero Peninsula, the most deforested and degraded region of Panama.
For this restoration project, the first in the Azuero, Carol is collaborating with a local farmer on the reforestation of a degraded cattle pasture. She is evaluating the effectiveness of artificial perches in birds' dispersal of tree seeds and identifying the species that use them. In addition, a team of biologists is studying mammals' dispersal of the bulky seeds of rarer, late successional tree species.
With its increasing costs and complexity, managed reforestation has low success rates in dry and degraded agricultural lands. Facilitating tree seed dispersal by birds and mammals increases forest cover with minimal investment of time and resources. Other farmers in the region have shown interest in the project and are helping Carol and the biologists' team to scale up. Carol and her team are offering environmental education activities in local schools that share lessons learned from the project.
Learn more about the El Naranjo Ecological Restoration Project (PREN):
Participating in an ELTI course helped me reinforce my knowledge about restoration as well as provided me with new information. With the realization of my final project and after receiving guidance from the course instructor, I had a better vision of how to execute it. As the project advances, we have been guided by some of the case studies provided to us during the course. Working with cattle farmers in the Azuero area is difficult, but thanks to the mentoring received from ELTI we have made great progress.

Carol Gantes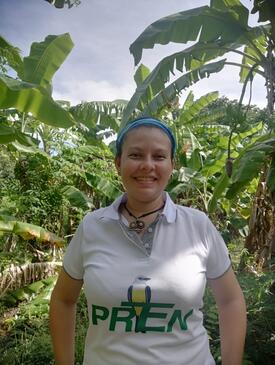 Oscar Lopez
Acknowledgements
Carol thanks ELTI for the training opportunity and continued guidance with her project implementation. In addition, she is grateful to the biologists who have collaborated with her: Óscar G. López Ch., Celestino Aguilar, Daniel González, Estibali Wilkie, and Brosis Rodríguez. She also thanks Café Don Lito, Emilio Cubilla of La Atolladora Farm en San José de Las Tablas, and Lic. Jorge Angulo and Family