Smallholder Agroecology in the Dry Arc of Panama
A booming tourism sector is driving rapid growth in Panama's dry arc. Across the region's foothills, increasing employment and income levels drive the expansion of small villages.
That's not all. Demand for food, forest products and water has also increased. Water consumption is exceeding the capacity of rural aqueduct systems fed by natural springs from forested areas.
Additional pressure on these watersheds comes from common slash-and-burn farming practices. Due to low soil fertility, farmers grow crops for a few years only, then move on. Before the degraded forest can reseed these areas, grasses and shrub species invade and arrest natural forest regeneration. These threats to the watershed foretell a future of water shortages for downstream consumers.
While the government encourages tree planting, past initiatives have focused on exotic timber species which displace subsistence crops and pressure nearby native forests. 
We must think about our children and grandchildren and the world they will grow up in. I want my successors to know how to work with nature, how to produce but also to conserve. My farm will be my legacy to them.

Armando Muñoz
Armando Muñoz, a small-scale farmer in this region, first learned about the benefits of native tree planting as a participant of the On-Farm Trials of the Native Species Reforestation Project (PRORENA). Armando later acquired other forest restoration strategies through an ELTI field-based training course in 2009.
With ELTI's assistance, Armando began to replace his conventional agricultural systems with agroforestry and agro-successional systems. These systems contain high diversity of native timber and fruit tree species inter-cropped with traditional annual crops, meeting short-term food security needs and promising future financial benefits from selective timber sales. Since he has moved away from slash-and-burn farming, his work will protect water resources with forest cover.
The agroforestry system is flourishing. Not only is Armando meeting his family's food-security needs, he has increased his sale of fruits and other annual crops.
Since his participation in the 2009 course, Armando has hosted approximately 100 farmers per year on his 10 hectare farm. Many of these visitors leave inspired to apply Armando's lessons on their land.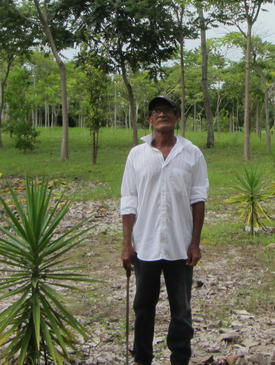 Acknowledgements
Thanks to the United State Peace Corps for supporting Armando with technical assistance and follow­-up to improve sustainable agriculture and agroforestry skills.