Increasing Cattle Farm Resilience in Panama's Santa María River Watershed
Panama's interior provinces are well known for their cattle ranching culture and pasture landscapes. Unfortunately, conventional cattle ranching practices included the removal of trees, introduction of non-native pasture grasses, and the overuse of agrochemicals.
These practices result in low farm productivity and landscape-scale environmental degradation, especially in the heavily deforested Santa María River Watershed—an important watershed that provides drinking and irrigation water to the Veraguas, Herrera, and Coclé provinces. Farmers in this region face annual water shortages and disrupted farm productivity, and compounded with unpredictable weather, which make their conventional cattle farms particularly vulnerable. Under these dire conditions, some farmers from the region decided to make substantial changes to continue their traditional ranching livelihood.
ELTI alumnus and rancher, Arnulfo "Fufo" Calderón, has been transforming his family's cattle farm through the project entitled, "Sustainable Cattle Ranching in the Middle and Lower Watersheds of the Santa María River as a Measure of Adaptation to Climate Change," funded by the Adaptation Fund. This is the largest sustainable cattle ranching project to ever be implemented in Panama, with 120 producers establishing 600 hectares of silvopastoral systems. As a participant of the project, Arnulfo attended a field course at ELTI's training landscape in the Los Santos Province, Panama. Arnulfo visited research sites and model farms and learned about ecological livestock production from ELTI alumni from members of the Association of Livestock and Agrosilvopastoral Producers of Pedasi (APASPE). ELTI affiliates helped Arnulfo develop a farm management plan as a first step of the project, by integrating strategies he learned during the course and improvements he envisioned for his farm.
Over the past two years, Arnulfo received assistance to make significant changes to his farm, such as making small pastures, increasing living fences, planting native timber species, improving the cattle aqueduct, and establishing a forage bank. As a result, the productivity of his dairy cows doubled, and he is spending a fraction of the costs he did in the past. It has been so successful that Arnulfo plans to stay on the farm, rather than return to his job in the provincial capital, which he lost at the start of the pandemic. In his words, "Here at the farm, it is much more peaceful than in the city, I breathe clean air, listen to the birds, and best of all, I am my own boss!"
On this farm, we would always run out of pasture grass for the cattle. I'd have to drive to the next town 8–10 times a year to buy hay bales and sacks of feed, costing me $50 each trip. Before this project, I used to just think in the moment, instead of planning for the dry season when water and pasture grass become scarce. But that all changed with the project. Through the farm plan, I learned to recognize the weaknesses of my farm and make improvements so that I'm not caught off guard by the dry season. For example, I rotate my cattle on small paddocks, I planted more shade trees, and I have a forage bank with three different types of forages—now I produce all my water and food for the cattle here on my farm!

Arnulfo Calderón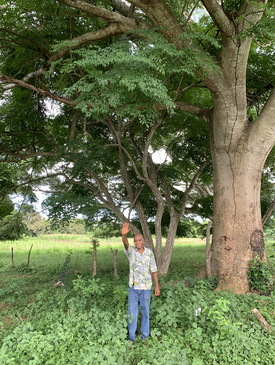 Jacob Slusser
Acknowledgements
Special thanks to the Adaptation Fund, Fundación Natura, and the project's implementing consortium led by Group for Education and Sustainable Environmental Management (GEMAS).